many are illongos here in bacolod are still questioning this new auto player who just started their serial production here in the philippines but in contrast they are one of china's most best and the most quality oriented automotive manufacturers.
FOTON is a commercial vehicle manufacturer ranking first in Asia and second all over the world, and a first brand among the China commercial vehicles. FOTON was established in August 28, 1996, its headquarters is located in Changping district, Beijing, and over 29 thousand employees work in FOTON at present, in which 2582 employees are two-stage research and development personnel. FOTON is a State-owned Holding Listed Company, which takes Beijing as a management center, has 16 entire automobile divisions and many part and component divisions in 8 provinces, cities and districts in China, and crosses the district, industry and ownership.

FOTON has brought high quality products and service for the people in over 90 countries and districts all over the world. At the third development stage (globalization operation) of FOTON, FOTON persists in the management policies of high quality, low cost and globalization and takes the commercial vehicle as the leading industry. Simultaneously, FOTON depends on its independent brands and innovation, creates the value with technology, captures the market by quality, and provides the products and service with high added value, to promote the globalization strategy step of FOTON. some of this qualities is what makes foton products very competitive among the world market, although they use hybrid assembly of vehicles; foton ensure that their products last long as their japanese and european equivalents.
anyways here is a short introduction and personal opinions about foton vehicles:
Commercial Vehicles and Trucks
Foton so far for me is ranked one of the world's best commercial and truck maker next to Japanese and European commercial vehicle and truck manufacturers. the quality of the actual components have already been competing with japanese components,
Foton Gordox (Forland Small)
The Gordox is a .5 T version of the 2T Forland which is very popular in china, the gordox uses a mitsubishi delica chassis and its engine is a re-engineered version of the Isuzu c240 and 4JB1 engines using rotary distributor type injection pump, the nimble performance of the gordox and its porter like-components make it possible to perform competitively with vehicles like the L300 and the porter.
Foton Ollin (Foton Tornado)
The ollin is a deranged isuzu elf, its chassis and components are from fuso canter designed components and the engine is a Chinese Isuzu 4JB1 and 4GB1 for 7T models, the cab seems to be a revamped nissan cabstar design, many have said the ollin has passed the test of durability and I also have to say the tornado especially the 1T version is becoming popular as an FB van chassis.
Foton Forland (Foton Cyclone)
The forland seems to be the opposite of the ollin; its an Isuzu elf having a fuso canter engine, the brake lines, chassis, differentials and overall cab design all has been taken from the isuzu elf. the engine is a Fuso 4D34U engine underlicensed from Fuso.
Foton Aumark
the aumark is positioned in the target market of high-garde light truck,whith a purpose to satisfy urban logistics and goods transportation. Deriving from the state-of-art truck technology,the vehicle leads the world trend of the high-grade light truck brands.
the aumark is equipped with the Cummins ISF series of engines which adopt the most advanced technologies such as Turbocharged intercooling, BOSCH HPCR system and Cummins control software are provided. The design of four-valve and the rear-arranged gear box ensures low fuel consumption and minimum noise.8PK belt transmission gear train guarantees a reasonable and compact structure.EU-IV system adopts the most advanced SCR system in the world to meet the requirements of EU-IV that potentially shows the features of EU-V. foton also markets aumark using Isuzu engines. if the aumark gets marketed here, you will see this class of vehicles may overturn some trucks in the surplus market.

top mark; if this foton commercial vehicles have a more prudent opportunity, It might be someday this vehicles will also become one of the most best designs of base vehicles for jeepneys and philippine transport vehicles... provided foton will increase and levy their parts and services in the country.
Foton Auman
The Auman is the the lineup of the foton heavy trucks which is marketed around the world and recently gaining popularity in East Europe, UAE and African countries. most foton heavy duty trucks use both european and japanese designs and components, most engines are mostly cummins and perkins truck engines and small chinese designs. the auman cab is a morbid design of japanese and european cabs which they designed into chinese standards. the brands include the Shenzhou, Kunlun, Xiongshl and Qlbing
Foton Passenger vehicles
MP-X

the MPX is foton's answer to the middle class SUV market it owes its design to the Hyundai Starex but its lines and major sheetmetal has been redesigned by an English auto designer firm hired by foton. unlike its hyundai half-cousin the MPX uses a mitsubishi/isuzu-based diesel engine. the MPX is the first to use the X-TEC technology designed for Foton by Lotus designs in England.


View
the View seems to be a 5th generation Toyota Hiace + Isuzu Components x Chinese grunge session.. having toyota hiace components and similarities to design. designed for the commercial and residential market, the view is also becoming the standard government ambulance foton is now starting to sell private versions for domestic purposes, the view powered by the following engines:
the 4D24 diesel engine is a model specially designed for light buses. the 4D22; a brand-new R & D model based on the platform of NISSAN SD22 diesel engine .With its fuel supply and combustion systems using the latest technologies from AVL, the fuel consumption of this model is cut by 10% ; so, it has better economical efficiency. and the 4JB1T and underlicesned Isuzu diesel engine; this diesel engine can provide domestic light buses with top-class diesel power,
Foton view microbuses are incomparably safe, comfortable , and money-efficient according to Foton .They have gained the reputation as "Best Fuel-saving Microbus" and satisfied customers multi-functional demands for instant benefits ,efficient business operation ,and short-haul passenger transport.
Foton Midi (MP-X midi)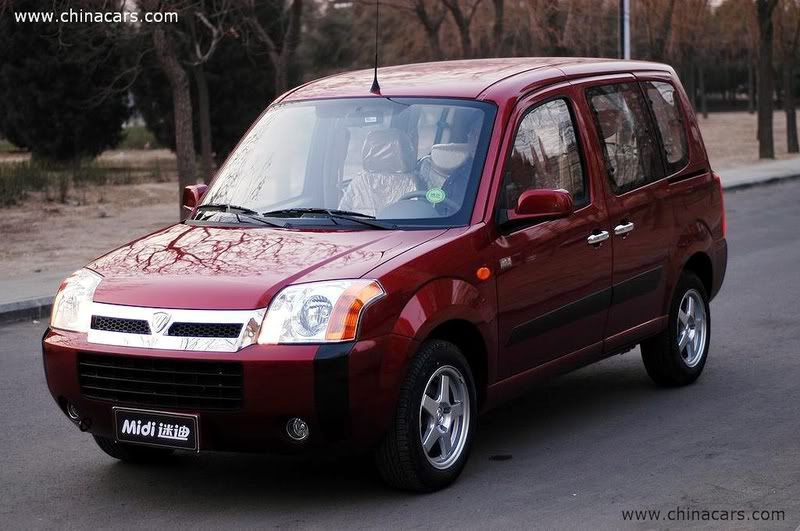 the foton midi is a small sized SUV classed vehicle, the MP-X Midi, featuring roomy interior space and extra carrying capacity, is for both commercial and domestic usage. the midi is a classical CDV of European lineage, Midi highlights four features: strong bearing, large space, top safety and super comfort. Two kinds of body length are available, the maximum at 4388 meters. With a capacity of 3000L, Midi is able to hold 1.8-meter-long goods. The roomy space, largest among the same models, could bear goods at 650 kilos. Midi's top speed reaches 170km/h.
Midi also adopted the unique X-TEC technology of Foton Motor, delivering its dual performance for both business and family use and is available in 1.3, 1.4, 1.5 gas and 1.6L diesel engines.
Foton SUP (known as the Blizzarad)
As long as you want the basics, you're on the right track. It looks like an Isuzu Fuego because it is a licensed Isuzu Fuego. You get its reliable 4JB1 diesel engine as well as the same exterior and interior bits. It's not the most refined of pick-ups out there, but as a basic workhorse and is getting popular in bacolod because of its isuzu fuego characterisitics

what to do with foton vehicles:

like all china-made products these vehicles must be provided with utmost care by the users, there are some vehicles that may pass the quality test but problems occur during usage, remeber the basics in vehicle and car maintenance, do checks, fill up fluids and similar checks
do not abuse this vehicles and respect its limits; because its mostly chinese made components always be careful always know its vehicle duty whether its mid-distance, city driving or its capable of capacities, just as always; read user's manuals, and note specific warnings.
something to note; by the way, for those pseudo-intellect filipinos criticizing foton vehicles they are merely those who try to use their vehicles in sudden rigorous conditions and they try to abuse the vehicles to certain limits and are mostly biased consumers thinking their japanese and US products are the best. they must think again how did japanese car makers do this in the 50's, 60's and 70's. most of the japanese vehicle during that time were also under rated and has low quality standard but with this decade of up and down by the 80's they improved their design and now they are one of the world's finest, after a short time you will see chinese automobiles and parts will improve and after a while you'll be finding this vehicles and parts after a while, so I would say to these so-called "car sexperts", don't underestimate china.
so far foton has a meager quality and most of all its prices are competitive; just remember take good care of it at times, these vehicles will take good care of you on the road...