the second generation pinzgauer ATV
The Pinzgauer is a military spec-all terrain vehicle developed by Steyr Daimler puch of Graz, Austria it is a 4x4 or 6x6 medium built multipurpose vehicle which was developed from the halflinger series of vehicles made by the same company the pinzgauer is equipped with high performance all independent suspension, differential lock, speed synchronizer gear and high/low speed transfer case and an option for power take off (PTO) making the pinzgauer capable of travelling in any kind of terrain and even climb stairs!. the first generation known as the 712 and 716, were one of the most successful ATV in the world, and serves almost 35 to 40 nations and is continuing its service as of today.
Pinzgauer 712M
there are many civilian versions as of today and many 4x4 enthusiasts consider the pinz as one of the most successful vehicles in its class, although its smaller than other vehicles in the market. this vehicles were first pwered by a 990cc 2 cylinder gasoline engine but later versions were powered by larger 1.8L diesel engines. later the pinzgauer were assembled by the British firm automotive technik ltd. and substantially was acquired by the defense tycoon BAE Systems, which later became the part of the program.
A pinzgauer 716
NOTE: This Pinzgauer Fire truck is not Joking with its proven abilities.
In early 2010, BAE systems announced the starting of production of the latest model of the Pinzgauer, known as the pinzgauer II family of vehicles, it is composed of a more powerful series of vehicles with a feature of higher capacity, higher horse power ratings and more flexibility in terms wide-world operating condtions.
the newer family of Pinzgauer vehicles seems to have overqualified its predecessors, equipped with more powerful engines, a more higher ratio transmission and a more aggressive look and more abilities
the pinzgauer II comes in 2 versions mainly the:
pinzgauer II FC cab type
Pinzgauer II bonnet type
well I hope this stirs the filipino and bacolod fans of the halflinger and pinzgauer series of vehicles, watch out in the next 8 to 15 years, this unique vehicles may be available in the nearest military decommissioning depots around the world...
anyways here's a spec brochure of the new pinzgauer II series if your interestewd to know more about this new model!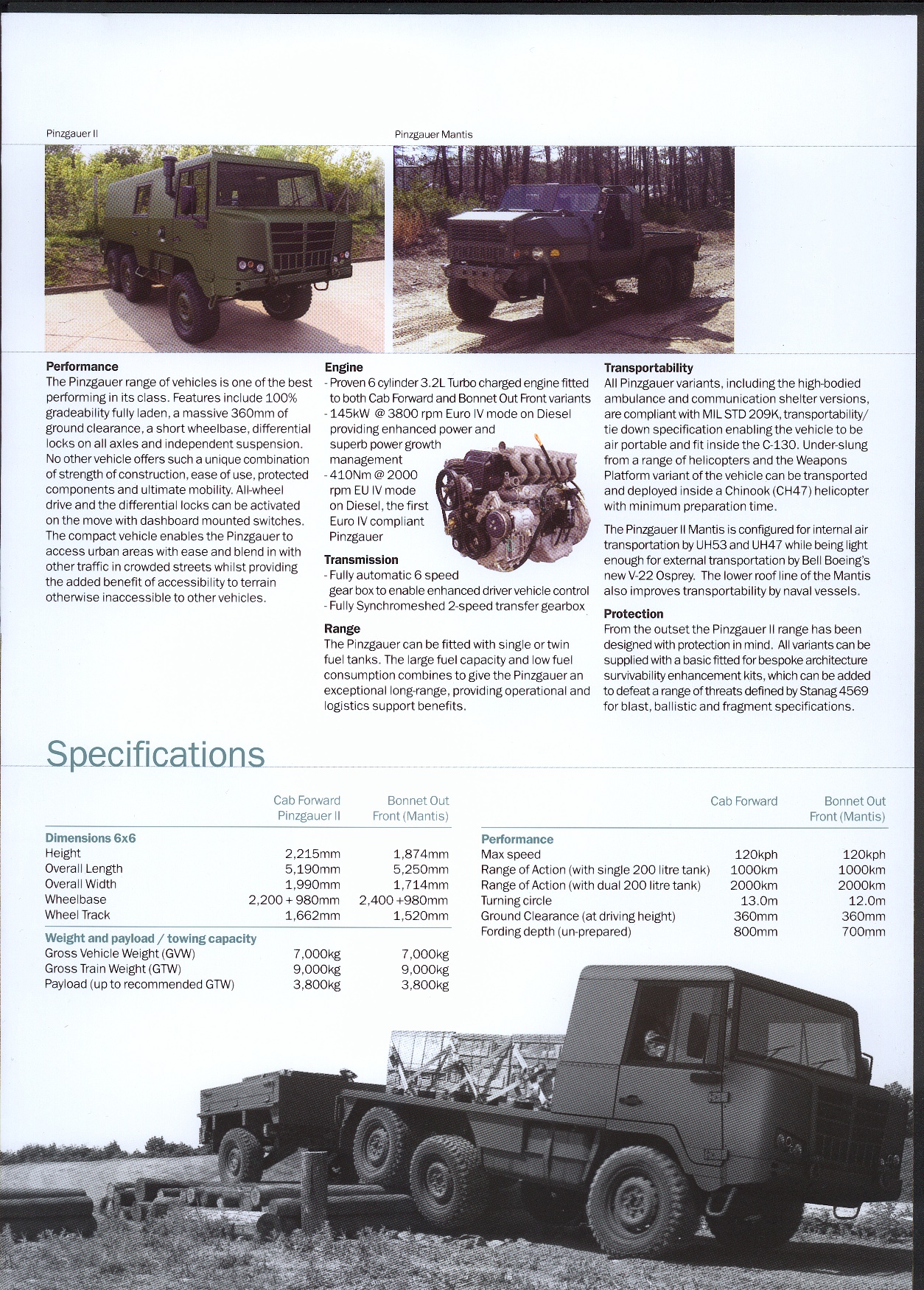 Spec brochure sheet of the new pinzgauer II from BAE Systems