This mammoth Jap Hummer is said to be the Sumo Emperor of Japanese SUVs

Well many still think that Japan's largest SUV is the prado and the fj cruiser, but think again since 1995, toyota made only a few of these in commercial and civilian versions and a large number are in service in the Japanese armed forces and the Japanese interior and local government, meet the Toyota Mega Cruiser
The Toyota Mega Cruiser is a large, heavy-duty sport utility vehicle introduced by Toyota in 1995. The largest SUV ever built by Toyota, it resembled the Hummer H1, and like the Hummer, was designed primarily for military use with the Mega Cruiser seeing duty as infantry transports equipped with mounted howitzers and mobile Surface-to-air missiles in the Japan Self Defense Forces.
Exclusively sold in Japan, the Mega Cruiser also was used by prefectural police and fire/rescue departments, although a limited number were sold to civilians. This vehicle was intended to test designs that would eventually make their way into mass produced Toyota SUVs (like the Land Cruiser), but was financially unsuccessful for Toyota.
One thing you'll like about some models of the mega cruiser is that some models have articulated rear wheels..
The Mega Cruiser featured a 4.1 L turbodiesel I4 engine. The engine focused on producing high amounts of torque at low revs. The SUV featured front, center, and rear differentials, as well as four wheel steering.
The Military Version known as the Toyota Koukidousha
The mega cruiser's interior is as spacious as the H1, such space will have you awe on such what you will get with an SUV as large as a Hummer but costs lesser when you can grab your hands on a surplus mega cruiser..
the Driver's area is of simple layout(because its an RHD version), to the left of the driver is all the ancillary controls from aircon to power windows, the shift knob, parking brake and 4wd/2wd shifter is also here. in the upper left corner is the stereo and audio controls..
The mega cruiser's engine is the Toyota 15B-FTE, The 15B-FTE is a 4.1 L (4104 cc) inline 4 sixteen valve OHV direct injection turbo intercooled diesel engine. Bore is 108 mm and stroke is 112 mm, with a compression ratio of 17.8:1. Output is 153 hp (114 kW) at 3200 rpm with 282 ft·lbf (382 N·m) of torque at 1800 rpm.
more pics of the mega cruiser
Square light version
round light version
The Toyota Megacruiser has been commercialised in Japan since 1995 at the price of 9 620 000 YEN (non official price).
Here is the equivalent price for your currency:
MoneyPrice
Japanese YEN 9 620 000 JPY
US Dollar 83 000 USD
Canadian Dollar 97 000 CAD
Australian Dollar 111 000 AUD
British Pound 45 000 GBP
Euro 68 000 EUR
Where to buy a Mega Cruiser ?
Unfortunately, Mega Cruiser does not seem to be still commercialised since a few year. However, it is possible to find some used vehicles, especially in Japan and Australia. Note that Mega Cruiser has been designed for the japan market only, and there is NO left-hand drive version.
as of November 1, 2010 there are 2 Mega Cruiser for sale at
Jap City
well that's it for the mega cruiser I hope you now have got acuainted with the Jap Hummer and Japan's King of SUV's....
FJ Cruiser Diesel Conversions
The Toyota FJ Cruiser is a retro-style SUV produced by Toyota introduced as a concept at the 2003 Chicago Auto Show and in production form at the following North American International Auto Show. It went on sale in early 2006 as a 2007 model and features styling reminiscent of the originalToyota FJ40 Land Cruisers from the 1960s (particularly the front fascia, white roof and wrap around rear windows) and is based on the Land Cruiser Prado platform. The FJ Cruiser was not originally intended for production but due to enormous consumer response about the car following the North American International Auto Show, production eventually began in early 2006. FJ Cruisers are built by Hino Motors in Hamura, Japan.
Toyota has plans to yank in the diesel engine used by the prado into the FJ, but up until now, Hino and Toyota has been quite lukewarm and silent about this matter, as to opposed they have stated few years ago a diesel FJ cruiser was on its way to the market.
Although I admire the FJ cruiser's high clearance and very appreciable suspension system wouldn't it be great that FJ could have a diesel version? yes, here in our country, gasoline is the most expensive hydrocarbon fuel up to date slamming at about 50 pesos a liter, it be a good alternative to mileage to madlang-mayamans to have a diesel FJ around the country?
there are some excellent options that you may find very curious in diesel swaps and conversions, many have been successful
Dieseltoyz in the US has offered several packages of Engines, complete with OEM electronic systems and they guarantee aftermarket support on their conversions.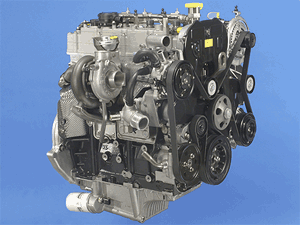 Liberty Diesel CRD - the liberty diesel engine is made by Mercedes Benz and is a 2.8 Liter CRD four cylinder diesel. it cranks out 160 horsepower @3,800 rpm..and has a torque rated at 295 ft-lbs at 1,800 rpm. This little German engineered turbo jewel had a double overhead cam, cast iron block and aluminum head. It had direct (EFI) fuel injection and was capable of 27 to 30 miles per gallon on the highway.
Dieseltoyz gave this as a second option of using the OEM Toyota 1KD-FTV, The 1KD-FTV is a 3.0L (2982cc) straight-4 common rail diesel engine with a variable geometry turbocharger and Intercooler. It has 16 valves and a DOHC(double overhead camshaft) design. Bore is 96 mm and stroke is 103 mm. It generates 170 hp (125 kW) at 3400 rpm, and 260 lbf·ft (352 N·m) of torque at 1800-3400 rpm. Redline of this engine is at 4200 RPM. Compression ratio is 17.9:1.
This engine uses Toyota's D-4D Common Rail fuel injection technology operating at ultra high pressures of up to 135 mpa (1350 bar or about 19,580psig) which is about 8 times more than the pressure of conventional fuel injection systems within a "common rail" that feeds the injectors on all four cylinders (older diesel engines have a separate line leading from the injection pump to each injector). This is combined with a 32-bit ECU which controls fuel quantity, valve-timing, and boost pressure at different engine parameters resulting in best fuel economy and also full utilization of power during acceleration. Pilot injection is also utilized by the common rail fuel system to smooth engine operation. Small amounts of fuel are introduced into the combustion chamber prior to the main injection event, reducing lag time and promoting more continuous and complete combustion.
many other owners have already successfully swapped the Toyota V8 diesel into their FJ's and have successfully made some in mileage and has offered lower idling range and engine efficiency and economy.
Another successful option you may find very qualifying for a diesel swap is Toyota's V8 diesel used in the Prado, can be inveitably squeezed into the hood of the FJ can max out the torque and power of the FJ. the 4.5-litre V8 diesel engine, producing 282bhp and 478lb/ft of pulling power.
I'd like to tell you all the best diesel engine to swap with the V6 3L engine of the FJ is the Toyota 15B and its more modern counterpart the Hino NO4C Series which is used by Dynas and Dutros.
Although there are many debates over the FJ's diesel model because it will sacrifice, mobility, for me a diesel FJ cruiser will be the best option here as it will help many owners who cannot afford running a gasoline powered V6 FJ, especially in the economic matter, but for me if I get really bored with these FJ-intellects, i'll yank a Toyota 15B diesel engine (Similar to the mega cruiser and used in the hino dutro truck) into an FJ to shut their mouths.. simple as that no debates, because as a diesel advocate, low pollution and efficiency are my great reasons to swap to diesel.
well I don't know comrades, will a Diesel FJ Cruiser the best option for you? well for me it is.. even if it means swapping the engine...