disclaimer: they are not photoshopped you'll never believe they did this!
dually is a term for shortbed or extended bed pickups which have double tires or four wheels in the rear axle, duallys can either be high clearnce or low clearance, but the dually or double tired pickup can carry double the capacity of ordinary pickups of the same size. for years since we never saw a japanese or JDM dual tired pickups, but they do exist.. some owners do modify some vehicles and while others are a long forgotten model
toyota hilux (tacoma) dually
here are some pics I found while browsing the net on these vehicles, the dually hilux is mounted with a V6 toyota engine and sits on a dyna-spec chassis, it seems to have its camper removed, consequently the diameter of the rear body seems to be very large, as to because it used to house a motor home.
this toyota hilux dual tire seemed to be first a camper version made by an RV vehicle maker
called sunrader, and looks like the one below;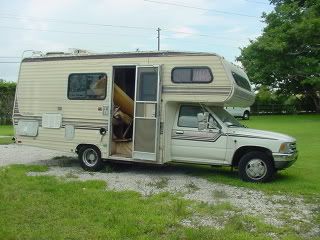 Nissan 720 dually
during the 1970's Nissan motors, then Datsun; produced a limited number of 720 pickups which had dual tires, here is an example;
I also found out its for sale, and is a utility type model, notice that it has a slight width elongation from the original cab width, it is powered by a Datsun 4YL engine.
what i'm thinking, if its possible to make pickups like this using our locally existing pickups such as an Isuzu TFR LS, Nissan Pickups like the Bravo and Frontier, Mitsubishi L200's and even Isuzu elfs whic we can modify to accomodate pickup beds, lets say were making Japanese style super duty pickups which according wikipedia, The Super Duty pickups are larger, heavier built commercial/industrial series pickup trucks with heavier-duty body-on-frame steel ladder frames, axles, springs, brakes, transmissions, more powerful engines, and all other heavier/bigger components (with much higher payload and towing capacities), consider it we are making an isuzu fuego into an elf and an L200 into a canter guts equivalent..
whoosh I hope I can make an Isuzu TFR LS have tires like these ;)